Tripawds is a user-supported community. Thank you for your support!
On Saturday, April 6th, Jabba-bear passed away peacefully at Oldtown Veterinary Hospital in the loving presence of his mom and dad.
Friday morning, we gave Jabba-bear a few doses of  Tramadol in hopes of alleviating some of his pain. It seemed to help quiet his labored breathing -he had been altering between healthy pants, small squeaks, and a honking sound that was reminiscent of a child with a very bad lung infection. You could hear a rattling sound in his lungs. Although he was clearly struggling, Jabba-bear was still very much aware of his surroundings. He still had a happy glean in his eye and would wag his tail in our presence, attempting to roll over for a belly-rub.  Later that day, we took Jabba-bear back to Reynolda Village for a short walk. It was a glorious day (a pleasant surprise considering the tumultuous, apocalyptic weather that we experienced on Thursday-snow, sleet, hail, rain, etc.).  Jabba-bear didn't make it very far. He found a cool patch of ivy to lay in. We placed a blanket on the ground and sat with him for a while, petting him, allowing him to soak up the sun, while watching passersby with their pups. Jabba didn't feel like making new friends that day, but he seemed to offer a knowing nod to the dogs as they walked past us.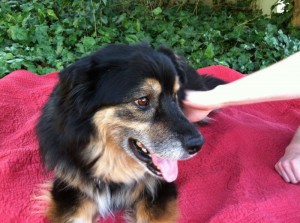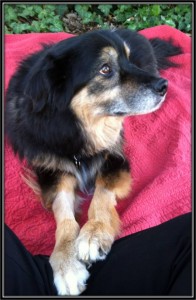 Soon, Jabba was ready to go back to the car. He loves the car, especially his dad's fast BMW. We drove around town, stopping for pizza from 2 different restaurants. We ordered a total of 4 thick-crust pizza pies, smothered with cheese, bacon, and pepperoni (Jabba's favorite). Then, Jabba's dad went to the grocery store and bought cupcakes, donuts, bacon, turkey pepperoni, premium Nathan's hot dogs, and sliced turkey (from the deli). That night, we decided to celebrate Jabba's life by lifting the no-carb ban and allowing him to eat all the "junk food" he desired. When we got home, Jabba eagerly devoured 2 pieces of pizza and snacked for the rest of the night on various goodies.
After midnight, his breathing became extremely erratic. Jabba's mom sat up next to him, placed her hands on his side and sang to him, whispering the words "quiet, quiet, quiet" while attempting to transfer all the loving, healing energy in her body to him, through her touch. As hokey as that may sound, it actually seemed to work. Jabba-bear soon fell asleep and started dreaming-his front two legs twitching periodically and his ears flicking with delight. Several times throughout the night, Jabba-bear sat up and cried out loud.  He was uncomfortable. Maybe it was all the pizza? At one point, he did let out an impressive belch before collapsing on his side, content, and falling back asleep.  By 5 AM, Jabba's discomfort was wearing on both of us, and we called the emergency vet (Carolina Veterinary Specialists) to schedule his euthanasia. We told Beyonce to prepare herself to say "goodbye" to her brother. She responded by letting out a blood curling howl and then grabbing her lamb chop chew toy and throwing it in the air, settling next to Jabba's head, with her paws on his front legs. As soon as we hung up the phone, Jabba-bear seemed to stabilize. After 10 minutes, we cancelled the appointment, deciding to try and "hold out" for Jabba's primary vet (Oldtown Veterinary Hospital)-we had already scheduled an appointment for 9:20 AM on Saturday.  In an effort to distract ourselves from the impending doom that consumed us, we watched "All Dogs go to Heaven" on Netflix. When it finished, we still had nearly two hours until our appointment at Oldtown. Jabba seemed to be resting comfortably with his dad on the floor of the living room. We had surrounded him with pillows, propping him up until we found a position that allowed him to breathe more easily.
Shortly before it was time to leave for the vet, Jabba's paternal grandpawrents arrived to say "goodbye" to their favorite grandson.  In the background, we played the Lion King soundtrack to comfort Jabba-bear (it was a trick that had worked in the past). At this point, we were all very emotional. Even though we were dreading this final moment, it also came as a relief since we knew that soon Jabba-bear would no longer be suffering. We fed Jabba-bear hot dogs for breakfast, and his dad cooked him half a package of thick bacon to feed to him in the car ride to the vet. Jabba savored every bite. On our way, we sang Hanunka Matata and I Just Can't Wait to be King, and Jabba-bear stuck his head out the window, as he so loved to do. He closed his eyes and enjoyed some final good sniffs.
Note: the above photos were taken the day before, during our trip around town. We thought they were symbolic of Jabba's transition to heaven.
When we got to the vet, Jabba-bear let us know that he was ready to go. He normally rushes to hide behind a chair  (or in the corner)  when the vet-techs enter the room to take him to the back. On this day, he laid on the floor, gasping for air. He was not scared.  He just seemed tired of fighting. There was no question that we were doing the right thing. When the time came, they lifted Jabba-bear onto a table. He faced a painting on the wall- a well trodden path through the forest. It reminded us of our trip to Pilot Mountain. Perhaps Jabba could pass away thinking that he was back on the trail, climbing the mountain.  3 injections later (1 flush, 1 sedative, 1 dose of a pinkish euthanasia liquid), and Jabba-bear had passed. The staff at Oldtown were compassionate and completely professional. They helped ease the difficulty of the situation. We are, and always will be, extremely grateful to them.
Friday night was extremely difficult for us, but we were deeply touched by the incredible support that we received from so many of you in the Tripawds community. Thank you. 
Thank you, not only for your support, but also for taking the time to read our posts. Writing this blog over the past several weeks has been extremely cathartic for us.
We hope that you find value in what we have written about our journey with Jabba-bear. We are happy to answer any questions that you may have, now or at a later date.