Tripawds is a user-supported community. Thank you for your support!
On Friday March 15th, Jabba-bear went for a short drive across town to Reynolda Gardens, where he frolicked freely in the fields.
Jabba briefly explored the trails surrounding the Reynolda house, but he was more interested in meeting new friends (Reynolda Village is a popular dog-walking attraction). We laid down in the grass for a while and basked in the sunlight, enjoying every moment of the bright, beautiful weather. It was clear that Spring had finally arrived!
The following pictures highlight Jabba-bear at his finest: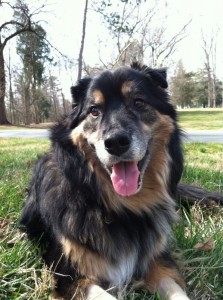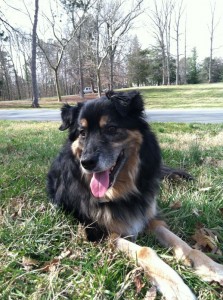 That afternoon, when we got home, Beyonce  welcomed Jabba-bear by licking his ears profusely (until they "stood up" on their own). We have to recognize that Beyonce has been extremely tolerant of all the extra attention Jabba-bear has been receiving over the past few weeks. She genuinely seems to understand what is happening to her beloved brother and best friend.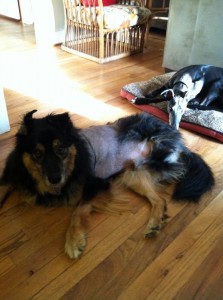 Later that evening, Jabba's breathing pattern became noticeably irregular. He seemed to be wheezing more than normal, gasping for air. But, we rationalized it as a side-effect from the lobectomy, telling ourselves that Jabba-bear was still adjusting to his smaller lung capacity. He still seemed eager to go for walks and to protect the neighborhood from the "evil" man in uniform who approaches the house each day with stacks of oddly shaped paper in his hands, leaving them in a box on the front porch. Disclaimer: the mailman is not evil by any means, but Jabba-bear has never taken a liking to him. As a result, the mailman probably thinks that Jabba is the Godzilla of dogs (a 180 pound guard dog that would rip his throat out if given the opportunity). I wonder what he would do if he realized that the source of the now familiar earth-shattering growl was really a 50 pound fur ball with 3 legs. . .