Tripawds is a user-supported community. Thank you for your support!
This is a little late, and we have a lot to share right now, but first let's start off with good news: Jabba made it to his two-year Ampuversary (January 21st, 2013) with no sign of cancer in his lungs! He celebrated his Ampuversary by going for a run (nearly 2 miles!). It was a wonderful, wonderful day. . .
But, let's back up a little bit. A little over one year ago (January 13th, 2012), Jabba-bear completed a 50-week osteosarcoma study at North Carolina State College of Veterinary Medicine (co-sponsored by Ohio State University). During this time, Jabba-bear received metronomic chemotherapy in the form of low doses of cyclophosphamide and piroxicam, every other day. Shortly after completing the study (February 10th, 2012), we received a phone call informing us that there appeared to be a small (5 mm) metastatic tumor in Jabba's right lung. The prognosis was bleak, and the referring veterinarian told us to prepare to say "goodbye" to Jabba-bear. When we asked how much time to expect to share with him, they told us that Jabba-bear would not make it to November. We were devastated by this news, but we vowed to do everything in our power to ensure that Jabba-bear would have the best chance possible of beating the odds. The doctor recognized our devotion to our beloved pet, and appreciated the fact that we were gradate students (i.e., of limited financial resources), and despite the fact that the clinical trial had ended (and we were "encouraged" by the study coordinators to discontinue the metronomic therapy in order to better gauge the effectiveness of the near year of treatment), she recommended that we try supplementing Jabba-bear's medicine regimen with Palladia (an FDA approved drug for the treatment of advanced mast cell tumors in dogs, which was the other drug in the clinical trial-it was two drugs [cyclophosphamide and piroxicam] or three [cyclophosphamide, piroxicam, and palladia]). So Jabba was given free Palladia for several months. We actually didn't realize we were getting it for free until we tried to re-fill his prescription in November 2012 and were informed we had only been paying shipping ($25), and that the actual cost of Palladia was closer to $170 a month. Unfortunately due to financial restrictions we made the decision to take Jabba off of Palladia at this time. All year, we had been dreading the arrival of November. . .recognizing that after November, Jabba-bear would be on "borrowed time". However, November came, and Jabba-bear surprised us by hiking 6 miles up and down Pilot Mountain one cold Saturday morning. We took him there off-leash, and he had a fantastic time scaling the mountain, periodically glancing back at us mere two legged creatures who were lagging behind. He had so much life in him!
Throughout 2012 we periodically had Jabba's lungs X-rayed, always holding our breath and bracing for bad news. But miraculously his lungs were always clear, save for the small "met" that never moved or changed in size. Finally in January 2013, it was beginning to look like Jabba had beat cancer, and that the small met was not in fact cancer. Attached are two pictures of his xray showing the small "met" (red arrow), in January 2012, and one year later in 2013.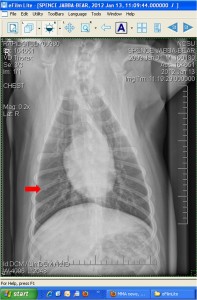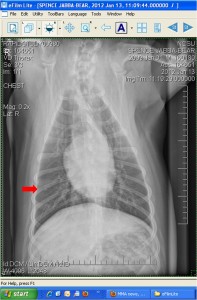 We should add that shortly after Jabba-bear began taking Palladia, he started having complications with his renal system. He seemed to be incontinent, and was urinating in the house every couple of hours. Then, came the blood. At first there were only a few drops of blood in his urine, but it worsened over time. Our local vet treated Jabba for a urinary tract infection (UTI), but he didn't respond very well to any antibiotic that we tried (there were at least 4 of them). This went on for a couple of months, with seemingly weekly checkups at the vet and test after test after test (e.g., urinalysis, ultrasounds of his bladder, complete blood counts, etc.). Jabba is the "mystery" dog. Nothing about him has every been "textbook" easy to diagnosis. One day the urinalysis would be riddled with bacteria, and the next, it was completely clear. An ultrasound of Jabba's bladder showed some nodules (bumps), which may have been due to cystitis (urinary bladder inflammation). Nevertheless, Jabba-bear didn't have any of these complications (side-effects) in the year that he was taking only cyclophosphamide and piroxicam. Therefore, we decided to discontinue the piroxicam and keep Jabba on the cyclophosphamide and palladia drug cocktail, (since both drugs are used in the treatment of cancer in dogs). This seemed to do the trick. Jabba's bladder problems dissipated and we had many good months. In October of 2012, Jabba had a small flareup of his bladder. This cleared up pretty quickly, and all was "forgotten"….until we went to refill his palladia (long, complicated story, involving a doctor who did us a huge favor out of the goodness of her heart-needless to say that we are very grateful to her!). Jabba-bear had a chest X-ray on December 5th, 2012, which showed that the suspicious lung met hadn't changed at all since February 2012. It was barely large enough to be detected on the X-ray (we were told that the mass must be at least 4 mm to be quantified). We were encouraged by this finding, since Jabba-bear was off palladia (receiving only cyclophosphamide on alternating days), but decided that we would hold out another month before allowing ourselves to really celebrate. As such, Jabba-bear had another X-ray on January 4th, 2013 (shown above). Miraculously, the lung "met" looked identical to the day it was first detected (in February 2012). At this point, our veterinarian told us the good news: that little spot on the X-ray was probably not a real lung met! She said that we couldn't technically say that Jabba-bear was "cured" for another year (3 years after the initiation of treatment), but she had a good feeling about him. And we did too. Our little mystery, miracle, tripawd dog!