Tripawds is a user-supported community. Thank you for your support!
Before we discuss the events of the past two weeks, we think it is appropriate to mention a few important highlights of 2012.
In January 2012, Jabba-bear's mom adopted a greyhound named Beyonce Knowles. She raced on the Celebrity Track in Florida (hence her name), but she wasn't very fast. This lead to her having a relatively short racing career. Beyonce was described by the kennel as a "DIVA". She was a little wild, jumpy, and playful. The owner of the kennel called her Bouncy Beyonce. Basically, she was different from the rest of the greyhounds and a lot to handle. We (Jabba's pawrents) thought it would be good for him to have a playmate, so the fact that Miss Beyonce Knowles was energetic was actually a major attraction for us. Before finalizing the adoption, we took Jabba to meet Beyonce. Jabba-bear was the first non-greyhound that Beyonce had ever seen. To prepare for the meeting, and since we didn't know how she would react to Jabba, Beyonce wore a muzzle. When she saw him, her pupils dilated and she had a whole body reaction. She lunged at Jabba-bear (as if she wanted to attack him). Jabba calmly approached Beyonce, looked her in the eyes, put his face next to her muzzle, and let out a deep, authoritative growl to let her know that he was the alpha dog. After that was established, they played together for nearly an hour. Two months later, Beyonce came to live with Jabba-bear. The delay was due to the fact that she tested positive for heartworm and needed to be treated (and kept quiet) for a couple of months before she could resume normal activity.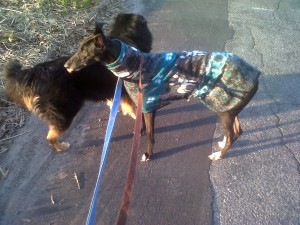 Beyonce quickly made herself comfortable in Jabba's house. As soon as she moved in, her wild side dissipated, and she became quite calm. Perhaps Jabba-bear set the tone for the house. In any case, Beyonce turned out to to be just as lazy as Jabba-bear.
Beyonce adores Jabba-bear (although we still are not quite sure how he feels about her).
Shortly after she moved in, Beyonce started curling up with Jabba-bear, wrapping herself around his body, nuzzling the site of his amputation. It was almost as if she knew that something was missing.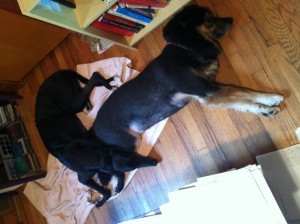 If she had it her way, she would do everything with him.
Beyonce does demand a lot of attention (she really is a DIVA), but she is a sweet, loving dog. And she certainly is cute!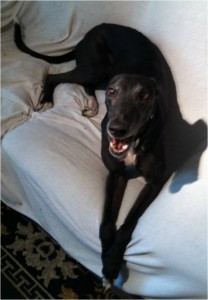 Overall, the last two years of Jabba's life have been wonderful. He had many great days and his smile touched the hearts of everyone he met (people and pups alike).
These are some photo's from the dog party Jabba had to honor his 3rd year: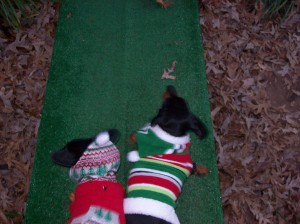 The following photos illustrate some of the other good times that we had:
Jabba-bear attended a CureSearch walk in the Spring. He made a lot of children happy that day.
Jabba-bear went as Yoda for Halloween!
A father's love for his dog: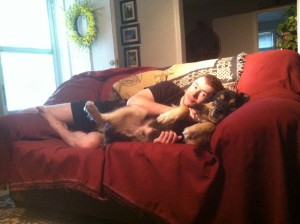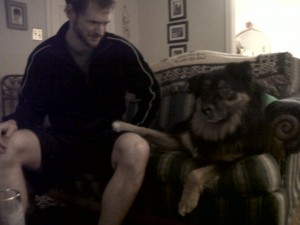 Some of Jabba's great poses on his couch(es):